Chuck Wayland, LCSW, ACHT
welcome to my practice
I am a Therapist, Coach, Teacher, Lifelong Student, Mentor, and Work in Progress!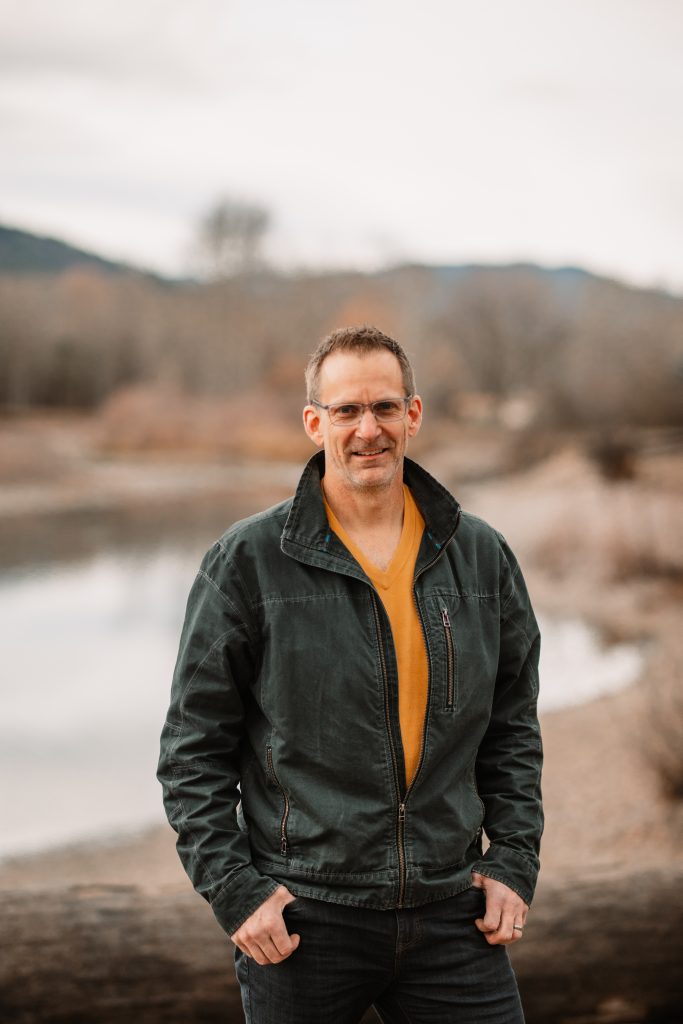 I am a native of Connecticut but consider Missoula home after moving here in 2002.  My wife, Laurie, and our two teenage boys, Spencer and Levi, enjoy taking part in the ways Missoula creates a vibrant, rich tapestry of community. We love the natural world and explore by car camping and getting outside on foot, bike, or skis, always with binoculars and naturalist guide books in hand.
As a husband I can appreciate the challenges of developing and maintaining emotional intimacy in a marriage. As a father I am well aware that the joys of parenting come with crazy challenges that sometimes push my limits of tolerance and patience. I approach my role as a therapist with the utmost respect and humility. I, too, am a work in progress and am willing to acknowledge where I fail to walk the talk. As my own work unfolds and I experience the positive benefits from self-growth, I gain the empathy, confidence and passion to help others find a way through their own darkness and toward possibilities that make life worth living.
I opened my Missoula practice in 2012, and currently serve youth, adolescents, young adults, and adults at my office at 336 West Spruce. My family and I spent the summers of 2013-2018 working for Camp Denali lodge in Denali National Park, AK.  I have previously lived in Salt Lake City, Utah where I worked for two prominent wilderness programs serving adolescents and affluent families. I earned my Master of Social Work from the University of Montana in 2006. During graduate school, I worked for AWARE Inc. and the Youth Homes serving at-risk adolescents and their families. Upon receiving my MSW, I worked with James Morton of Achievement Transition Group, a young adult transition program that mentored young men as they developed life skills for independent living and adapted to college life and academic challenges.
From 2007-2013, I was a group home Program Director and Therapist for the Youth Homes, serving families and at-risk adolescents struggling with mental health issues often resulting from trauma, abuse and neglect in their family of origin.
As a "work in progress" myself, I continue to hone and add to my clinical skills. I received my Heart Centered Hypnotherapy training from the Wellness Institute in Issaquah, WA in January 2015. I completed a 2 year Intensive Internship to receive my Advanced Clinical Hypnotherapy Certification in 2018.  Heart Centered Hypnotherapy is a penetrating and transformative technique that I am excited to share with to those willing to try. The Trim Life program was designed by the Wellness Institute.  I completed a one year post internship year to attain certification to lead Personal Transformation Intensives, which is how I became trained to lead Heart Centered Breathwork sessions.  I attended year One of the Wellness Institutes Mentors program,  for further professional development in hypnotherapy, psycho-drama, hypno-drama and Jungian and Transpersonal modes of subconscious inquiry.
In January 2018, I became a Transpersonal Life Coach through Certification at the Wellness Institute.
I am trained in Dialectical Behavior Therapy and my practice is deeply informed by the mindfulness techniques and approaches in this modality.
I began transformational personal practices of meditation, yoga and Qigong more than 20 years ago and continue to receive enormous benefit from them in various ways. In January, 2016 I received Reiki 1 and 2 certification.
As someone devoted to a spiritual growth, I encourage interested clients to incorporate their own personal dimensions of religious and spiritual practice into treatment focus.
I draw on the influence of writers, clinicians, and teachers such as Tara Brach, Jon Kabat-Zinn, Gabor Mate, John Wellwood, Mark Epstein, Pema Chodron, and Robert Augustus Masters. I also draw on cutting edge scientific research by the likes Steven Porges, Dan Siegel, Rick Hanson, Joe Dispenza, the Heart Math Institute, and many others to inform the importance of working simultaneously on mind, body and spirit.
To bring these influences to bear in therapy, I rely on goal setting, practice exercises, homework, and psycho-education to generate whole person healing.
I am passionate about supporting men to develop emotional intimacy and emotional vulnerability in their intimate relationships and deeper connections with one another.
I am a certified parent educator in the Positive Discipline approach to parenting. In this approach, family members are called upon to address the difficulties affecting healthy connection and functioning. I am excited to teach families this collaborative problem solving approach, which works very well with challenges specific to adolescents.
I write Mental Health Evaluations for adolescents involved in Missoula County Youth Court.
I am trained in the Critical Incident Stress Debrief (CISD) process.